I read a recent post of Wes Fryer's recently about the the transformative power of flash-based video cameras. It made me think about teacher uptake of technology on a much broader scale, especially with things like the Electronic Whiteboards becoming so popular in Hong Kong International Schools. (And with the underfunded local schools doing their best to play catch up.) See Consultation Document on the Third Strategy on Information Technology in Education – Right Technology at the Right Time for the Right Task I was impressed with the table from the the findings of the 10 year ACOT study which Wes conveniently copied into his blog post.
I decided to turn this into a few powerpoint slides as I often talk about teacher take up of technology and limit myself to showing the diffusion of innovation curve below.
or even the Gartner Hype Cycle: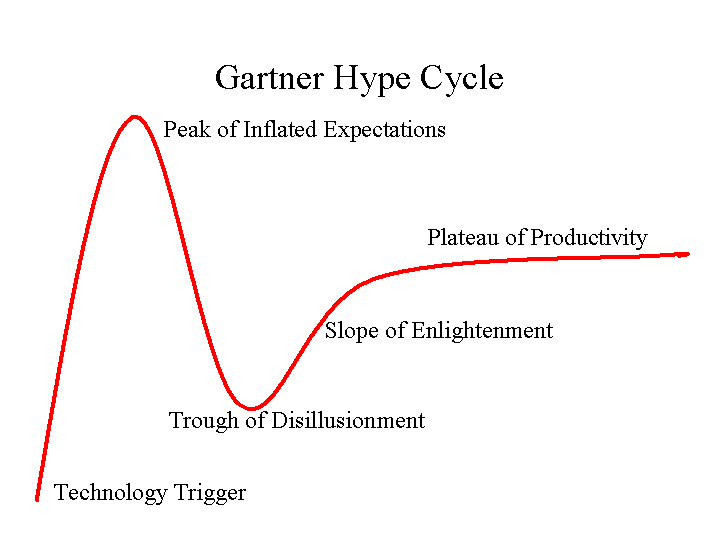 I am not sure that I really want to draw reference to this article that I was recently pointed to about K-12 teachers being part of the most "Technology lagging sector". This is a PDF where you will see on slide 21 that "The lowest IT-Intensive industry sector was Education…well below coal mining and every other sector!". The accompanying data from the report are on pages 57 and 58 of this report. There you will see Educational Service proudly sitting at the bottom of the Bottom-Half Less IT-intensive Industries table, ranking below such worthy competitors as "Amusement and recreation services", "Rubber and miscellaneous plastics products", Water transportation" and of course "Stone, clay, and glass products" ("coal mining" is at the bottom of the Top-Half table, way out of our league…).
Anyway, back to the ACOT study, which is much more positive and i think I would like to use some of the ideas from the table to show what is possible to get teachers to move through more quickly with support from someone like myself. Here is my attempt at putting these stages into a Powerpoint.